'As lesbians, we needed a guidebook on parenting'
She knew she wanted children but, as a lesbian, Hannah Latham knew it was going to be tricky. "Without that rather crucial bit of kit, it all takes a bit longer," she says laughing as she cuddles Eli, her four-month-old baby. His three-year-old brother, Noah, is at nursery. It is a working day for Hannah who, after Noah was born, started up a magazine – We Are Family – for families who have one or more lesbian, gay, bisexual or transgender (LGBT) member.
"It took Rowena and I nearly a decade to become parents and we went through almost every option. There were quite desperate times," says Hannah, now 39. "I felt we had gone through such an incredible journey, but the whole way through it, there was no place where I, as a lesbian woman, was represented."
A brief look at parenting forums such as Mumsnet show that LGBT couples clearly want to make contact to share their experiences.
"So many people – including straight couples, of course – go through so much to have a family. I want to create the kind of place we craved when we were going through it. To normalise same-sex parenting. To not feel like freaks. To celebrate the fact that a healthy, happy family doesn't have to exist within a conventional straight partnership."
The family landscape is changing, especially since the arrival of civil partnerships in 2005, enabling both people in a same-sex relationship to be the legal parents of a child born to one, conceived by surrogacy or adopted. The Office for National Statistics says there were 12,000 same-sex families with dependent children in 2012, of which half had couples in a civil partnership. Compare this with 1996, when there were no reliable figures for same-sex couples with dependent children.
Hannah and Rowena's journey began with a period of prolonged consideration about whether even to attempt to become parents. "We discussed the impact and ethics around bringing children into a same-sex relationship when it's not the norm. Should we even have kids as a lesbian couple?" says Hannah.
But they went ahead: "Adoption, trying to persuade friends to donate sperm, going to a clinic, discussing co-parenting; trawling through dozens of donors – some of them with questionable motives – at internet matching sites. You name it, we tried it."
Adoptions in 2012 were up nearly 10% from the year before, and Michael Gove is trying to speed up the rate. Even in the decade since Hannah and Rowena looked into adoption, LGBT couples have seen their star rise. "Agencies and local authorities are crying out for same-sex couples to foster and adopt. They realise that there's a growing number of us desperate for children. Often, we've dealt with difficulties in our own lives and can give understanding, love and stability."
Even though there are more alternative families these days, there are still LGBT people who assume that becoming a parent isn't an option. "Gay men, especially, don't realise they're able to become dads. They simply think it's not for them."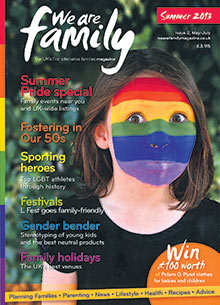 We Are Family, the magazine set up by Hannah Latham.
Hannah can empathise with that feeling of isolation at every stage: she says it was as if they were the only people in the world in their situation. "Of course we weren't – it just felt like that," she says. "And if we felt isolated, imagine what gay and lesbian couples felt like in the 1980s and 90s," she adds. She knows several older lesbian couples who kept their status very quiet in case their children from previous heterosexual relationships were removed.
She wants We Are Family to take away that feeling of isolation. "When we were going through all this, we really needed a guidebook. The nuts and bolts of issues – how to choose a clinic or donor; how to embark on co-parenting; how to talk about sexuality with your children – are crucial to people in our community who want to become parents or become better ones."
Writing that guidebook was a fledgling idea in Hannah's mind, but then after Noah's birth, her mother died. Hannah decided to plough her inheritance into setting up a magazine. "Mum was very ill when I told her that we were expecting Noah. She'd always been very supportive of my sexuality, and she was absolutely thrilled – I'm convinced it kept her going until his birth. I know she would have loved the fact that I'd used her money to do this."
At the time, she was freelancing for the Spark, a Bristol-based alternative magazine. She went to its owner and publisher and floated the idea. He liked it; they researched the numbers and market and decided there was room for a family-oriented LGBT magazine.
"I wanted something different. Most magazines aimed at us are crammed full of chatline numbers and sex-toy ads." She dismisses them with a vehement shake of the head. "I wanted a glossy magazine that I – or anyone else – would be happy to put on the coffee table for my mother-in-law to read."
While some might deride the deliberate mainstream branding and design, saying it panders to convention, this is exactly what Hannah feels her community needs. "I heard from a woman who was thrilled that no one had clocked she was reading a lesbian magazine on the bus," she says.
Working out the content opened up many avenues. "The more research I did, the more my original idea – a magazine for gay and lesbian parents – actually looked quite narrow-minded. There are bisexual couples, transgender couples either in hetero or gay relationships, polyamorous parents, as well as gay and straight couples and single people going through surrogacy, fostering and adoption. Then you've got the children themselves and the extended family – it's a pretty broad readership."
With the publishing world in a perilous state and the ease of blogging online, why does she feel the need to produce a physical magazine? "It's about visibility. It's about holding the magazine; sharing it with family and friends, whether they're LGBT or not."
She and her small team have been mailing copies to libraries, doctors' surgeries, donor and fertility clinics, and selling them at Pride events all over the country. "I met a woman who told me the magazine had made her feel normal and that her family had a place in the world."
It has also brought her own family together. "My grandfather was tolerant of my sexuality, but didn't come to our civil partnership ceremony because he didn't get why we needed or wanted one," says Hannah. They became closer during her mother's illness: "We realised we were pretty similar, and I think he was amazed at how much I took on to look after her while having a tiny baby to care for."
Hannah took some prelaunch issues of the magazine to her grandmother's birthday party. "All her friends pored over the magazine, loudly wondering what the T in LGBT stood for, and telling me it was better than a soap opera. My grandfather took a copy. I never thought he'd read it, but he did, loved it, and now he's my biggest researcher.
"Families are constantly changing. As long as the basics are there – parents who love each other and their kids – it doesn't really matter any more. Parental sexuality aside, so many families don't fit the mould – the majority have their quirks and strangeness."
Hannah and Rowena's own family is complete. "After initially thinking that meeting someone on a donor website was dangerous, stupid and downright wrong, that's what we ended up doing. We found Jerry through a website and used his sperm for both boys and he's involved, but has no legal or financial responsibility."
She laughs: "There's no way I'd ever be pregnant again – these two are quite enough." But then she leans forward, taps a finger on the magazine and whispers: "This is really my third child. I can't wait to see how they all turn out."